We are open: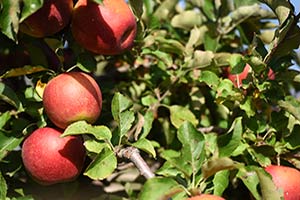 Weekdays: 10:00 AM to 5:00 PM  through the end of October.  Wagons run daily, 11-4.
Weekends: Aug. 26 & 27:  10:00 AM to  5:00 PM.  Labor Day weekend until end of season: 9:00 AM to 5:00 PM.  Wagons run 10:00-4:30 on weekends.
Apple Picking:  We charge for apple picking by-the-bag.  We accept cash, credit and debit cards.  We do not accept personal checks.
Apple Picking Prices:  1/2 bushel (about 20lbs) for $40.00  (allows up to 6 people into the orchard) and 1 peck (about 10lbs) for $30.00 (allows up to 4 people into the orchard).  The hay wagon ride that takes you and your family into and out of the orchard is part of the cost of the bag.
Cider Donuts Price:  $1.00/each
Cider Slushies:  $2.00/8 oz. cup
Hot Apple Crisp (with or without whip cream):  $4.00/bowl