We are open: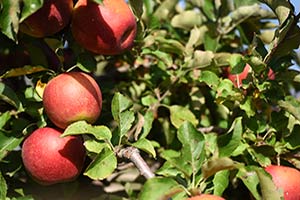 Weekdays: 10:00 AM to 5:00 PM  through the end of October.
Weekends: 9:00 AM to 5:00 PM.
Apple Picking:  We charge for apple picking by-the-bag.  We accept cash, credit and debit cards.  Cash is a quicker form of payment, however.
Prices:  1/2 bushel (about 20lbs) for $35.00 and 1 peck (about 10lbs) for $25.00.  The hay wagon ride that takes you and your family into and out of the orchard is part of the cost of the bag.