Berlin Orchards
Rt. 62 and Lower Sawyer Hill Road
Berlin, Massachusetts
01503
+1 978.838.2400
info@berlinorchards.com
We would love to hear from you.
Please use the form below to send us a message. All fields required.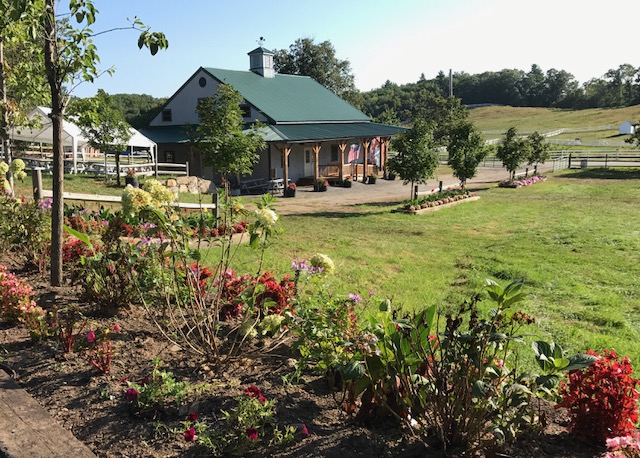 jane cain
01:57 16 Nov 21
Berlin Orchards is heaven on earth. Delicious scents, flavors, sights, and peaceful, happy calm. Great talented service. Often crowded; never a moment of stress. Plus, they make it so easy to shop local, even if I live 100+ miles away now...10 stars
Rebecca Gersbacher
19:18 11 Oct 21
This was our first time visiting Berlin Orchards and we'll definitely be back! Apples were delicious and plentiful and everyone we interacted act with was so kind and hard working. We also purchased some cider donuts and kettle corn, both excellent! I highly recommend visiting.
Cindy Moore
17:23 08 Sep 21
It was such a delight to not only pick great tasting apples, but to meet the hard-working family that owns the farm. I enjoy supporting family-owned local businesses and it is obvious this family works hard to provide an enjoyable experience to all that go.
Alexandra Zieminski
19:35 07 Sep 21
This is my favorite orchard in central Massachusetts! They have so many apple varieties, and all the food in their store is delicious. The apple cider doughnuts, apple cider slushy, honey, and kettle corn were amazing! We bought some of their "peach seconds" which are the fruits too bruised to sell at full price, and got 5 pounds for $6 which we used to make a peach cobbler. The farm and orchard are run by a truly lovely family— everyone is very friendly and they all pitch in to keep things running smoothly.
Robert Orne
17:45 11 Apr 19
People that manage and work this orchard are awesome. Just to walk around justifies the cost of a bag of apples. Plan a picnik and enjoy the peace and tranquility.
Em Z
00:20 12 Feb 19
We've been going here with the kids for many, many years. The family has done such a wonderful job keeping the magic alive! We love apple picking on the hillside with gorgeous views and so many delicious varieties. Of course, you have to ride the tractor. The driver makes it fun for all of us. I love the little store. There's tons of parking. It's not the cheapest way to make an apple pie, but we gladly pay the premium to help keep such a wonderful local farm in business!!!
Connor D
16:50 09 Dec 18
Great snacks and nick nacks, the hay ride is driven by probably the coolest person on earth and the apples always seem healthy
Michaela S
01:56 15 Nov 18
Very family friendly, sociable farm animals for petting, wide selection of apples, delicious apple products.
Claudia Ramelli
11:57 11 Nov 18
Love Berlin Orchards! They have the best utility apples for canning.
John Farnsworth
11:55 09 Nov 18
Great family run orchard not as busy as the other big name orchards in Northborough. Less people, easier to get around but still had farm animals, pumpkin painting, tractor rides and a store with food. Highly recommend
Rachel Wixted
16:58 26 Oct 18
I used to go there when I was a kid and I loved it!! Now I'm older and can't get out there for a hay ride, and fresh apple cider (and pie). Is there still penny candy? I'm dating myself. I will always remember the good old days!! Always fun!!! THANK YOU!
Dana Gillin
18:37 09 Oct 18
Not the cheapest place to pick apples, but they have farm animals to visit, pumpkins to paint, and their hay ride to and from the trees is just long enough to be fun. $35/half bushel. $25/peck. Website is kept up to date on varieties ready to pick. Lots and lots of trees!
Jesse Fillion
14:26 17 Sep 18
Amazing! Everything is so beautiful
Chrissy Poynton
02:41 15 Sep 18
The best family owned and operated apple orchard around. Can't get better. Love love the apple cider donuts and all the staff here. 😍
Krista Stone
12:53 09 Sep 18
Berlin Orchards is our fall family tradition. We visit almost every weekend to pick the most delicious apples in a beautiful setting.
June Rose
06:44 15 Jun 18
Fun experience delicious donuts & cider
Brian Wood
18:47 30 Nov 17
This is my favorite apple orchard! It is a family owned and run business. They have hay rides to the orchard and some amazing cider and cider donuts! They have some cool play houses for the kids and pumpkins as well as animals the kids can visit. Oh, and I love their apples!
Dallas Kennedy-Sita
09:55 26 Oct 17
Great apple picking. Areas for the kids to feed goats/pigs/chickens/donkeys. Little playhouses as well. Country store on site and ice cream at the farm across the road
Jackie Wheeler
10:58 25 Oct 17
The Berlin Orchards is a beautiful place. The apples are huge the animals they have are adorable and the hay ride is very fun
Danny Otero
21:02 23 Oct 17
Love it here! I came for the first time two years ago and loved it! It had a fun hayride, apple cider, apple cider donuts, and plenty of apples and that's all we really wanted. We came back yesterday and we had a lot of fun. I have two girls 6 and 3 and they played in the wooden houses, loved the animals, enjoyed the hayride to the orchards, and especially enjoyed the apple picking and eating! They Cortlands, Macintosh, Gala, Red Delicious, Mutsu, Jonagolds, and others and they all tasted good!! The apple cider was fresh and you can get a cup for $1, the donuts are nice a warm $5 for 6, and pumpkin painting $5 each. The bags for apple picking are $25 for the smaller 10lb bag and $35 for the bigger bag. We chose the $25 and you can fit plenty!!! I highly recommend this place for great family fun!
Dee Iarrobino
21:51 21 Oct 17
The two little guys and I had a great time picking apples and pumpkins. Staff and visitors all were friendly. Fun hay wagon ride and the little play cabins were a hit plus the amazing cider donuts still hot in the bag-mouthwatering.
Andrea Ward
18:21 14 Oct 17
This place is amazing. Softball sized apples for less than you pay in store.
Brad Livingston
22:26 10 Oct 17
The fresh apple cider donuts in the red trailer behind the store are the absolute best.
Bob Porter
21:42 01 Oct 17
Beautiful orchard, great selection of apple types and in all a fabulous pick your own experience.
Elizabeth Calvin
03:51 01 Oct 17
A quaint orchard with plenty of charm. I went during a weekday, so it was pretty quiet. It felt like we had the Orchard to ourselves. The signage in the actual orchard were helpful; they identified the different kinds of apple trees. The staff was incredibly friendly! They also have cute animals :]
Nikhila Vijay
01:01 23 Mar 17
I went here towards the end of apple picking season, yet had plenty to pick. It is a nice drive out from Boston, the place is fairly easy to get to and had plenty of parking. The hayride was fun. There is a small shop that sells amazing cider donuts, and other foods. They also have some farm animals - donkeys, rabbits etc. Really fun place!
See All Reviews
Write a review