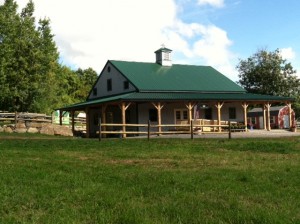 Dear Friends,
  We are picking Mutsu, Macoun, Jonagold, Macs and Cortland apples!  Honey Crisp apples are available in our farm store.  Open daily for picking, 10-5.
Our 40-lb Utility Boxes are ready now!  These apples are perfect for baking and cooking.  The 40-lb boxes are $25.00 each.
Our hay wagon will be running on weekends to take you into and out of the orchard to pick your apples.  Be sure to say hello to our barnyard animals!
We have pre-picked apples in our new farm store and carving and sugar pumpkins, cider, syrup, salsas, dressings, jams and jellies as well!  And cider donuts and apple crisp!
Due to sanitary and safety reasons, dogs are not allowed in the orchard.
                                                                                     Be sure to check us out on Facebook for up to the minute news and updates!
Gerard & Sheila Beirne and Children